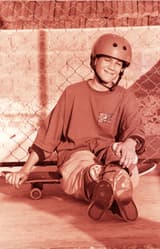 Instituto Skate Cuida
Revitalizing skate culture in Brazil w/ Bob Burnquist
The Story
The Skate Cuida Institute aims to inspire, educate, and transform the community through skateboarding. We work directly with the community to provide equipment and training so that young people can progress in skateboarding, as well as strive to increase awareness of social issues and accessibility. Since our inception, we have worked to promote skateboarding culture and provide a platform for young people to express their art and share their passion. Skateboarding is flying on various fronts, becoming increasingly present and evolved.
In collaboration with the Impact Platform, Gnars DAO, and Nouns DAO, the Skate Cuida Institute aims to promote inclusion and social development through sports and education, bringing Bob Burnquist and his team to provide skateboarding lessons, art workshops, and technology courses for underprivileged youth. This initiative aims not only to promote skateboarding but also to stimulate creativity and interest among young people in technology and the arts.
The Impact Platform is a social organization focused on technology education, acting as a bridge between the market in search of talent and young people in search of opportunities. Focused on favela and periphery communities, the platform helps transform the potential of these young people into prosperity. Throughout its trajectory, it has already trained professionals in more than 15 favelas who currently work for companies in Brazil and abroad. By offering professional education aligned with market needs, the Impact Platform contributes to breaking cycles of poverty and creating new success stories.
Nouns DAO has sub-DAOs, including Gnars, a DAO focused on supporting action sports culture. Gnars has an Ethereum fund shared among the owners of its NFTs, the Gnars, which represent voting power over the fund. Skaters and holders make proposals to finance their ideas. With about half a million reais in its treasury, Gnars supports skaters, events, DIY, skateparks, and other "gnarly" ideas.
At Skate Cuida, we continue to inspire, educate, and transform!,